Are you looking to upgrade your home?
The timing may never be correct, but your choices can be.
Any changes you make to your house should increase its value later. They should match your passions, interests, and needs.
While it is possible to handle some upgrades on your own, you should consider bringing in a professional.
They will ensure that you get the best value for your money and may offer helpful suggestions.
Here are a few home upgrade tips that you'll love.
1. Get an Outdoor Pool
Consider getting an outdoor pool. It is an upgrade that can improve the value of your home significantly.
A pool will help you beat the summer heat, and it can be the focal point of your property.
Depending on your budget and the size of your yard, your pool may be downright luxurious or basic.
Think about lighting for your new pool as well.
From standard LED lights to tiki torches, your options are endless.
Use lights to create the desired ambiance and light up the pool area.
Moonlighting is perfect when you really want to introduce a wow factor.
It replicates a moonlit landscape making your pool look genuinely dreamy.
The proper lighting for your pool will make your late-night swims incredible.
2. Garage Storage
Consider adding some storage to your garage.
While wall-mounted shelves are the best storage option, they aren't always practical.
Other storage options include hooks, baskets, and boxes.
Setting them up is easy, and you don't need professional help.
If you really want to go the extra mile, consider getting a retractable overhead garage rack.
The best garage storage lift on the market does not need any power source.
All you need to do is raise or lower them with a hand crank or drill.
Choose a rack depending on your storage needs.
3. Paint
Painting your home is the simplest way to upgrade it. It is effective and doesn't cost much.
The results of painting can be dramatic depending on what you choose.
Consider hiring a professional to handle the job.
They will help you pick a color, especially if you plan on reselling the house.
Studies suggest that pale yellow homes are the most marketable. Yellow is inspirational. It is associated with joy and optimism.
There are a few ways to update your home with paint.
While walls are the most obvious way, they aren't the only option.
Consider painting your kitchen vanities and cabinets as well. Your kitchen will instantly look and feel bigger and brighter.
Painting your interior doors may be a good idea as well.
Consider going with contrasting colors for a dramatic effect.
If you have white walls, for example, black interior doors would look great.
4. Upgrade Your Floors
Your home upgrade project is incomplete without good flooring.
There are many flooring options, and settling for one can be a challenge.
While looks are important, you must consider functionality as well.
Think about how your new floor will feel and how much maintenance it needs.
Do you have pets or kids? If so, what will happen if they spill red wine?
Your aim should be to strike a balance between functionality and good looks.
If you are looking for durability and practicality, for example, tile is a great option.
However, it may not be very comfortable for walking.
Hardwood floors are great if you don't have to worry about damage by pets or excessive moisture.
Engineered hardwood would be a good purchase if you are looking to keep your budget low.
Other affordable flooring options include laminate and carpet.
The most comfortable flooring options include cork, carpet, and laminate.
Standing and falling on them is much easier than tile and hardwood.
This is an excellent consideration for toddlers and older adults.
5. Update Your Kitchen
You can never go wrong with a kitchen remodel.
It can increase the resale value of your home significantly, especially if you avoid making personal décor decisions.
What you consider a dream kitchen may turn out to be someone else's nightmare.
Go for high-quality fixtures like granite counters and stainless steel appliances.
Don't cheapen the look by bringing in laminate and other cheap materials.
This, however, doesn't mean that you need to splurge.
If, for example, you live in a little one-bedroom bungalow, it makes no sense to buy high-end stoves.
Your choice of appliances and fixtures should match your home.
If you cannot afford to get an appliance overhaul, consider opting for cosmetic updates.
A fresh coat of paint on your walls may be enough to give your space a facelift.
Electrostatic paint on your old appliances can give you an enamel-type or metallic finish.
Consider adding a kitchen island. A good kitchen island feels like an invitation to get in and linger.
It is no surprise that kitchen islands are some of the most popular features in a home.
A multifunctional home gives you more surface space and increases your seating area.
Islands also make it possible to hide your power outlets subtly.
They promote flexibility and add room for storage. Taking advantage of every square inch increases your home value.
6. Bathroom Upgrades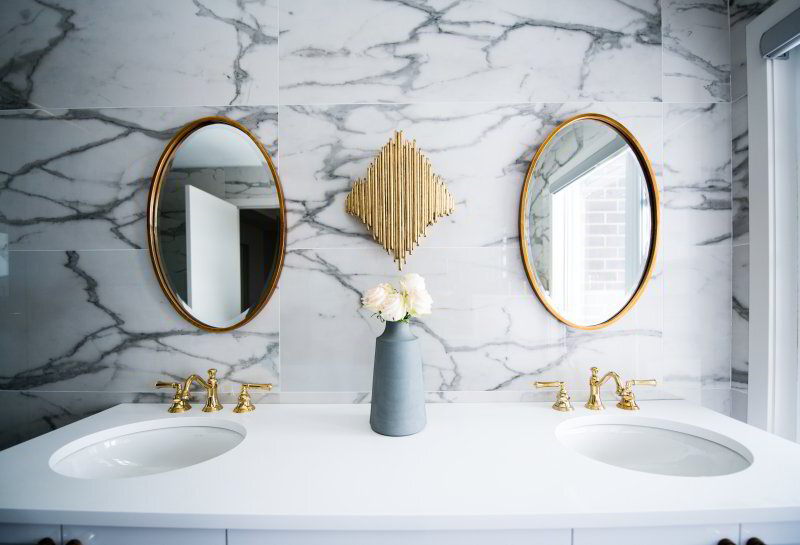 Bathroom upgrades include getting new fixtures, updated countertops, and touching upon your toilets and sinks. They can give returns of up to 64 percent.
However, it is wise to avoid anything that feels too trendy. What you love now may feel tacky and unattractive later.
Consider going with classic features that appeal to both traditional and contemporary tastes. You don't need to splurge on anything too costly.
Consider using plants to add some color and life to your bathroom. Do not the at them as an afterthought. Every bathroom needs a few plants.
Upgrades to your home are investments in yourself and your general well-being. When your home looks good, you feel good as well.
You are likely to unwind and relax after a long day.
Simple tips for upgrading your home include getting an outdoor pool, upgrading your bathroom, getting garage storage, and applying a fresh coat of paint.