At this point, you must have come across a few articles mentioning the kitchen as one of the most important rooms in any home. It is where the means and tools to prepare a decent meal for your family are located. It also houses the storage space that accommodates the means to serve that meal to everyone in the family and make it look more delicious.
Functionality and convenience aside, most people also have the dining space right in the kitchen, a place where they can sit with friends and loved ones telling stories, sharing experiences, and bonding as they enjoy a sumptuous breakfast, lunch, or dinner. But it comes a time when things start falling apart, and your kitchen tells you it needs a remodel!
You might need a good repair contractor
The last thing you want is to invite an important guest over, only for them to find the sink faucets dysfunctional, the storage cabinets are broken, or the tiles chipped. Even with some of the most expensive lighting fixtures, the place can look dull, boring, and uninviting.
Thankfully, repairing a few things here and there can help avoid the need for an overhaul remodeling for your kitchen. This means hiring a good contractor with an eye for perfection for most homeowners.
Of course, not all repair services are the same, and with a pool of many different contractors to choose from, the options can be a bit confusing. Luckily, this article points out a few tips you can use to ensure you get a good contractor depending on your specific needs and budget.
Here are a few considerations to have in mind before hiring a kitchen repair contractor.
Understand Your Needs
From furniture to plumbing fixtures, storage cabinets, wall tiles, flooring, and much more, the kitchen is made up of so many different parts. As a result, it is unlikely for everything to fall apart simultaneously.
Unless you strictly need an overhaul to remodel, you can give your kitchen a new lease of life by considering only what needs repair. In other words, you need to consider your needs and let them guide you in choosing a good repair contractor.
Now, some contractors specialize only in tile repair, whereas others focus on furniture, fittings, and appliances. The folks from arappliance repair would suggest working with a contractor who is experienced and easy to access.
If you specifically need the cooker, refrigerator, or kitchen HVAC repaired, go for a reliable contractor within your locale who will guarantee you just that.
Do Some Research
Kitchen repair can be a hectic project if you go in blindly or inadequately informed. You might end up spending more than you can afford, especially if you don't clearly know what you want, let alone what to expect. Before hiring a contractor, be sure to research the best in the market for the specific project you want to undertake.
As you conduct research, here are a few factors to consider before choosing some prospective candidates:
Expertise and specialization
Contractor experience
What other homeowners are saying about the contractor
Previous work samples
Contractor accreditation and licensure
Insurance
Interview Several Contractors
From your research, you will probably have selected three or so prospective candidates to handle your kitchen repair. Before settling for one, interviewing contractors separately helps you narrow down your options.
This will mean setting up meetings with each of your chosen contractors in realistic intervals so you can gauge their suitability for the job. The interviews also give you a chance to compare quotes from each prospective contractor, so you can really tell if they are really worth spending your money on.
Here are some questions you can ask during the contractor interviews:
How long have you been doing this?
What are your services exactly?
Are you adequately bonded and insured?
How long will it take to complete my project?
When will you expect payment for the job?
Do we need any permits or inspections for this project?
Do you anticipate any complications that might cause delays?
Can I get a written agreement for the project?
What details do you expect from me about the project?
From the answers you get from these (and more) questions, it becomes easier to choose a good contractor for your kitchen repair project. Make sure they are good communicators and that they adequately answer the questions asked.
At the very least, strive to make sure:
Their services are affordable
They have general liability and workers compensation insurance
The turnaround time is impressive
They have a positive reputation in the industry
Get Quotes
If you are yet to do so after the interview is arguably the best time to get quotes from your prospective kitchen repair service. Ensure the quote includes lengthy details about the requirements, including materials, parts, and labor particulars.
When comparing quotes, remember to do it logically because the lowest price isn't necessarily the best pick for you. Next, prioritize contractors who give you a detailed written estimate describing the scope of your project. At this point, you can choose the contractor who best fulfills the previous factors.
Get a Written Agreement
Now that you have decided on the contractor to hire for your kitchen repair project, go ahead and seek a legally binding agreement. Ensure it contains details such as the payment schedule, project terms, and the process to follow in case changes are needed to amend the original project terms.
Obviously, both you and the contractor's representative should sign the document. In case an unpleasant outcome or occurrence ensues, the signed contract can provide an avenue to seek legal recourse. A professional contractor understands this all so well, so they'll provide one even without you asking for it.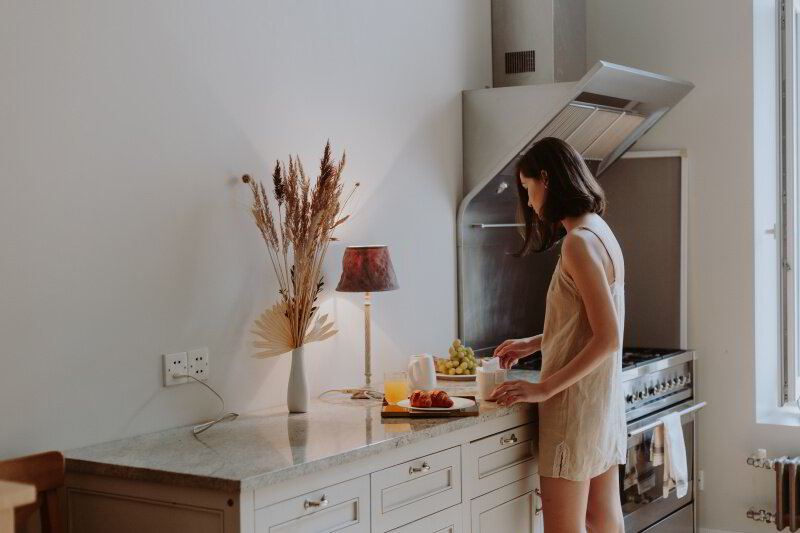 Finally, it is crucial to have a flexible mind when undertaking a kitchen repair project. Especially when setting a budget, it won't hurt much to consider the possibility of unexpected expenses, for instance.
Also, issues such as bad weather might delay project completion a little bit, but this shouldn't be a reason for the contractor to unrealistically violate the agreed completion timelines. All in all, how satisfactory your kitchen repair project comes out will depend on the contractor you work with, and the above few points will hopefully shed some light.