Your home is where you spend the majority of your time, and it only makes sense to give it a makeover every now and then. If this is something you've been thinking about, then it's time for a home improvement project!
If you're doing this for the first time and don't know where to start, look no further because we're here to provide you with informative and helpful tips to have the best makeover for your home.
Planning is Essential
Regardless of how straightforward you believe your project to be, the first and most important tip for a successful renovation is to plan it out beforehand.
This entails thinking through issues such as what it is you want to develop, how it will be finished, who will handle what, the sum of money you are ready to spend, and the length of time it will require to complete.
It's an ongoing plan, so you should revisit it and make changes as needed to stay on course.
Your plan should include dimensions, essential materials, appropriate tools, and everything else you would need to keep a record of if you're working on any large construction tasks on your own. Exact dimensions are essential when planning building projects.
Setting Realistic Objectives
You need to make up your mind about the essential renovations because your budget may not allow for a complete revamping of the whole house.
So, you need to set your priorities straight. For example, do you intend to remodel the complete bathroom, or are you only going to swap out the fixtures for the time being?
It's simple to start modestly and wind up with a tremendous job that will require you to tear out cupboards and pipes and take ages to finish rather than a weekend. Be specific about the tasks you actually need to complete at this moment.
Watching Your Finances
It's widely accepted that this aspect is the fundamental one. You need great restraint and discipline to keep costs low and avoid overspending, as you'll undoubtedly get carried away in the process.
So, don't let the bathroom renovation job that was supposed to be about fixtures turn into a total rebuild.
You need to monitor your spending closely. It's not difficult to get caught up in the temptation of adding a few dollars in between.
However, those modest outlays can build up to a lot of additional expenditure that you might not even be aware of until you discover you're significantly over budget.
Task Prioritization
Proper planning involves the prioritization of every task included.
Choosing your first priority is a component of planning. If you have numerous projects in mind, select the ones that make the most sense to work on.
You should also consider the weather, as you don't want your freshly-painted walls to be ruined by torrential rains.
Consider planning the order so that functional items, like installing new lighting or toilets, can be used as soon as possible rather than only being aesthetically pleasing.
If you experience an emergency that requires you to miss work on the project, this will stop any disruptions in your everyday routines.
Choosing the Right Materials
Using less expensive materials won't necessarily result in long-term cost savings. Make sure you're utilizing solutions that are long-lasting and durable.
Keep in mind that everything you do should increase the value of your house. To obtain high-quality goods that are being provided reasonably priced, look for sales in physical stores or online.
A clever idea would be to install granite tile slabs in your kitchen or bathroom. The result would be tasteful and exquisite, as seen on specialists' websites or brochures.
In that respect, the Arizona tile granite is the best-value-for-money option, as it combines stylish looks with low cost, can be installed on surfaces and floors, and is easy to clean and maintain properly.
For Arizona residents, there is actually a large slab yard in Tempe, AZ, where they can find a wide variety of granite tile slabs in every color and form.
D.I.Y. or Hire Professionals
Making a wise choice in this situation could be challenging as well. It is crucial that you are honest with yourself about your skills, free time, and areas of interest.
Don't do home improvements if you don't enjoy them. It's best not to start the whole process if you can't find the time or don't have the interest.
Even if you believe doing it yourself will be less expensive, it almost likely won't be if you mess things up in the end.
Also, think about whether you could spend your time more profitably during that period than you would by hiring a professional to do it.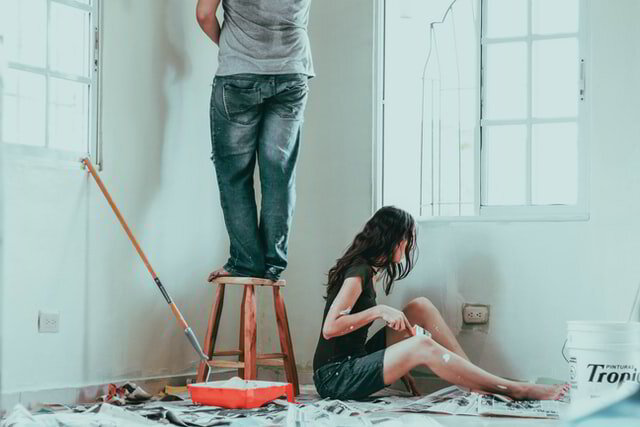 If you finally make up your mind about hiring a professional, make sure they are qualified and licensed.
The best tip here is to arrange a meeting with them to explain your plans and let them propose their designs so that you approve of them beforehand.
Doing an online search will yield some valuable results, so you'll be able to find a suitable contractor for you, as there are many reviews from previous clients, who leave positive or negative reviews.
Conclusion
Now that you have the necessary information, you can confidently move forward with the much-needed renovations.
These are the most valuable tips for anyone who decides to go through the complex process of renovating their house. In addition to these recommendations, there are two basic considerations for any home remodeling project.
The first is to ensure that anything you do is per the design philosophy you desire for your home.
Another thing to remember is that, in theory, your home's improvements should increase rather than decrease the value of your house.
It's a good idea to do all you can to raise the worth of your property even if you don't think you'll ever want to sell it.